NEWS
ARCHICAD + GRASSHOPPER BARCELONA :
From 16 – 21 of March Computational Design Week in Barcelona : D
WORKSHOPS + LECTURES
Join to PAZ for this amazing and intense week!! : D
REGISTRATION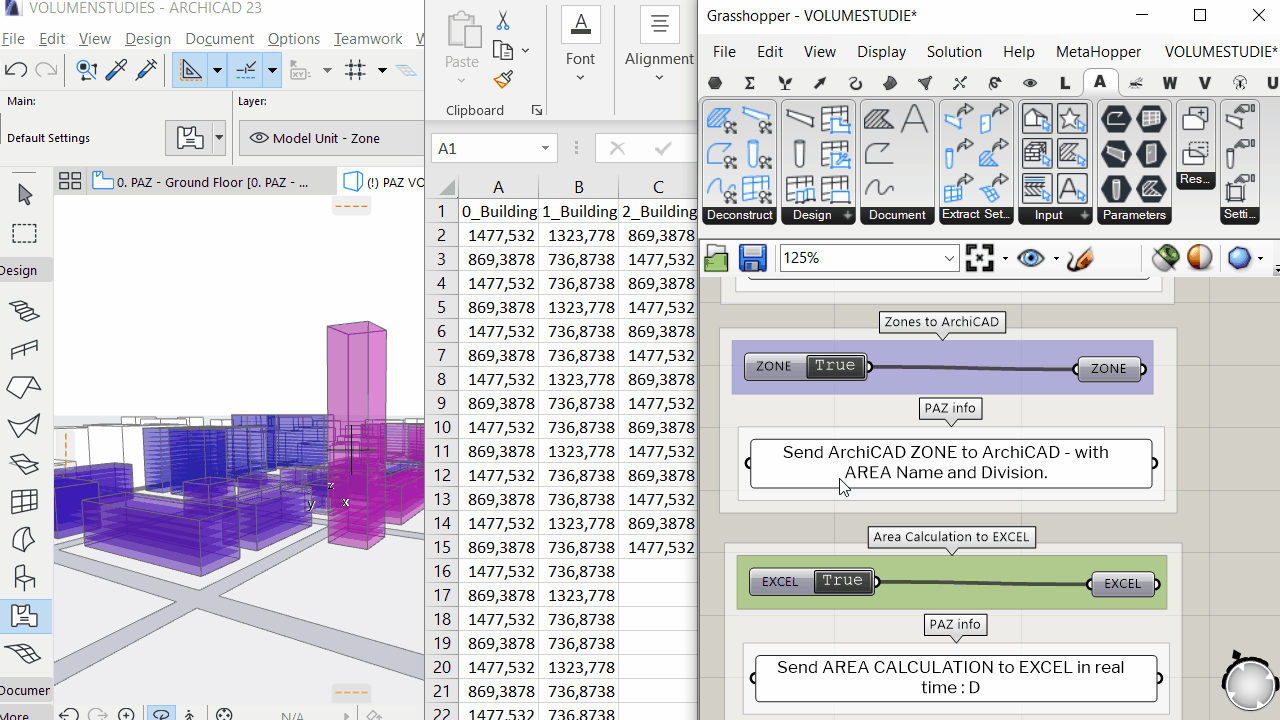 POINTS & NOTES : Workshop PAZ + AFTZ
24 of NOVEMBER POINTS & NOTES 13:00 Workshop in LAB100 in Zürich : )
We introduce the diversity and creativity of computer design in the context of architecture, experimenting with the creation of new spaces, geometry connected with visual and acoustic animations. : )
Join PAZ for this inspiring and open afternoon and let your imagination fly! : D
More info: info@pazacademy.xyz or AFTZ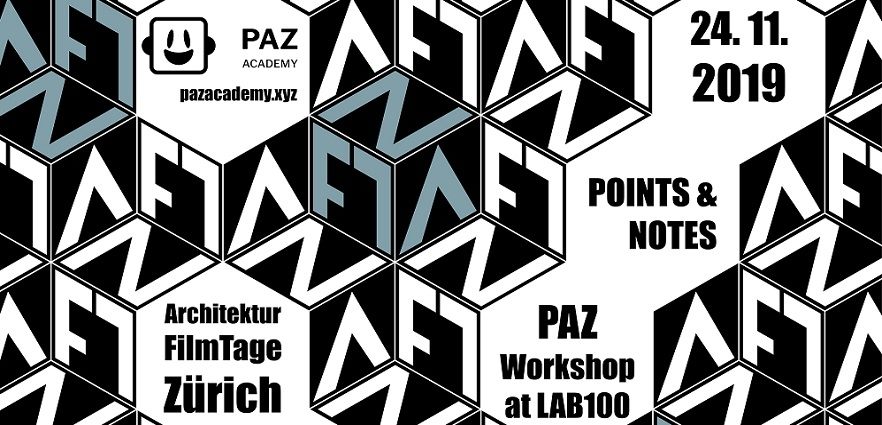 HELLO ARCHICAD + GRASSHOPPER :
6 of November AFTER WORK Presentation and Talk with Apero!
Come, ask and be part of the revolution: REGISTER : HELLO AC+GH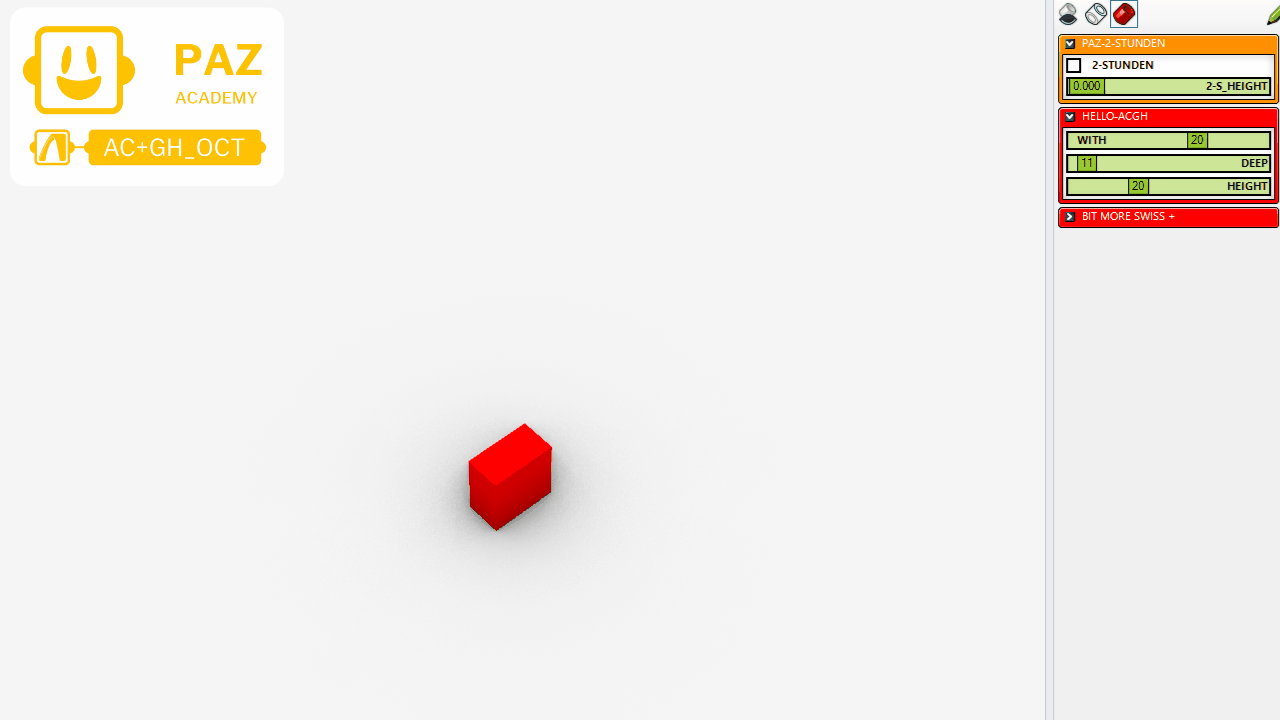 PAZ – OPEN PROCESS ZURICH + OPEN HOUSE ZURICH – 23 September 2019 6 pm – Schütze Areal, Heinrichtstrasse 238 in Zürich : )
PAZ – Parametric Adademy Zurich öffnet in Zusammenarbeit mit Open House nicht nur die Gebäude, sondern auch die architektonischen Prozesse.
PAZ zeigt dir in der Theorie anhand professioneller Beispiele, was Computational Design ist, wie du diese Sprache erlernen kannst und wie du mit dieser weltweit fortgeschrittenen Methode die Freiheit und die Möglichkeit haben wirst, deine Projekte präziser, flexibler und mit mehr Qualität auszuführen.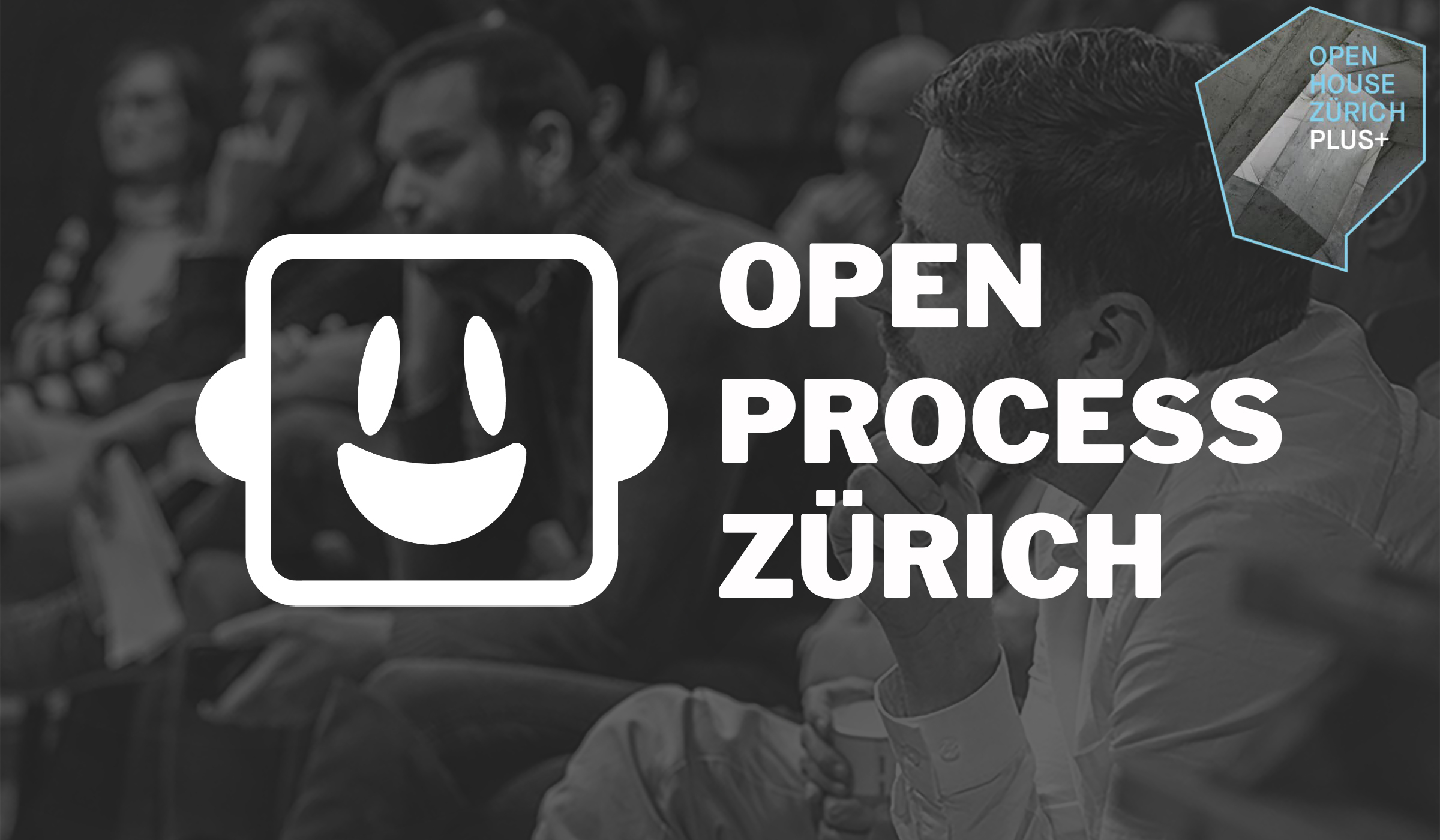 bauen digital Schweiz/buildingSMART Switzerland – 19 September 2019
PAZ is @bauen digital Schweiz in Winterthur! : ) Come and visit us at the "Market Place" and learn about computational design! Register and see you there : D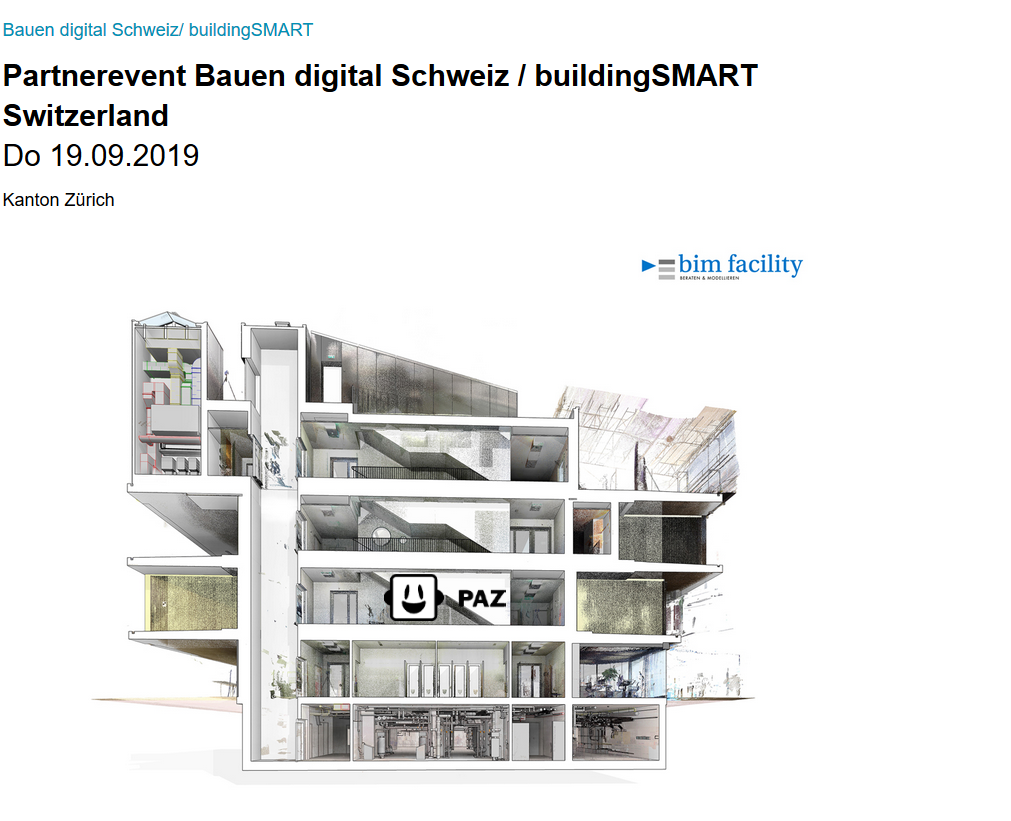 ARCHICAD GRASSHOPPER SUMMER CAMP August:
Thanks for our students to join our intense workshop, to learn, work hard and going deep into the beautiful world of parametric design. We like to share, learn and enjoy at the same time. And thanks for the feedbacks : D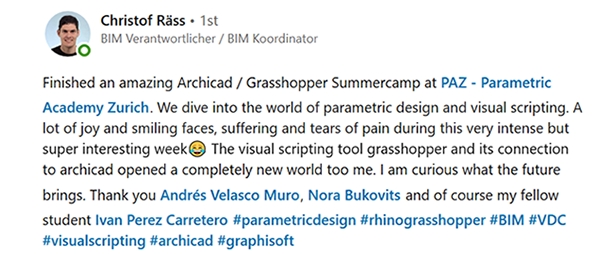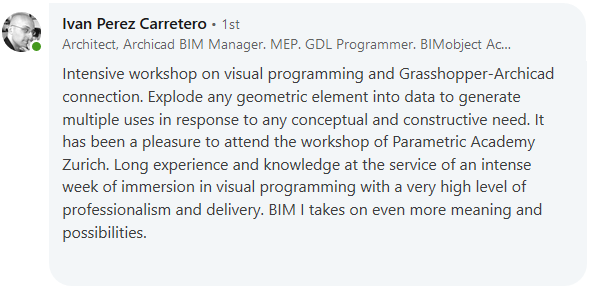 PAZ GAMES 1 YEAR ONLINE is on his way! : ) It is an individual 1 year training course to give learning experience to our students that are based on their choices, interest, passions and ambitions, giving them more voice into the learning process. Full with challenges, new levels and stages! JOIN TO US and be the best PLAYER! : D
OUR Gamer`s feedbacks: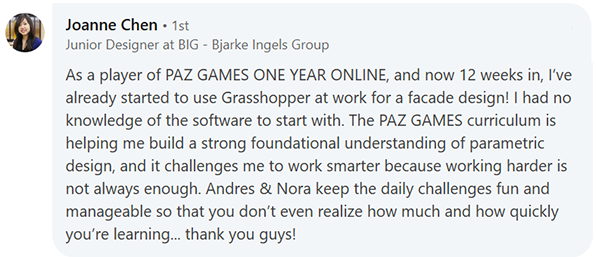 Register NOW for our next ARCHICAD GRASSHOPPER SUMMER CAMP . 12-16 of August in Zürich! Learn how to create flexible systems and convert it directly to BIM! Seats are still available! : )
Do NOT miss our ARCHICAD GRASSHOPPER SUMMER CAMP in Zurich. Learn how to connect your daily program with this visual scripting programm and be more efficient to have more time for your sand castle. : D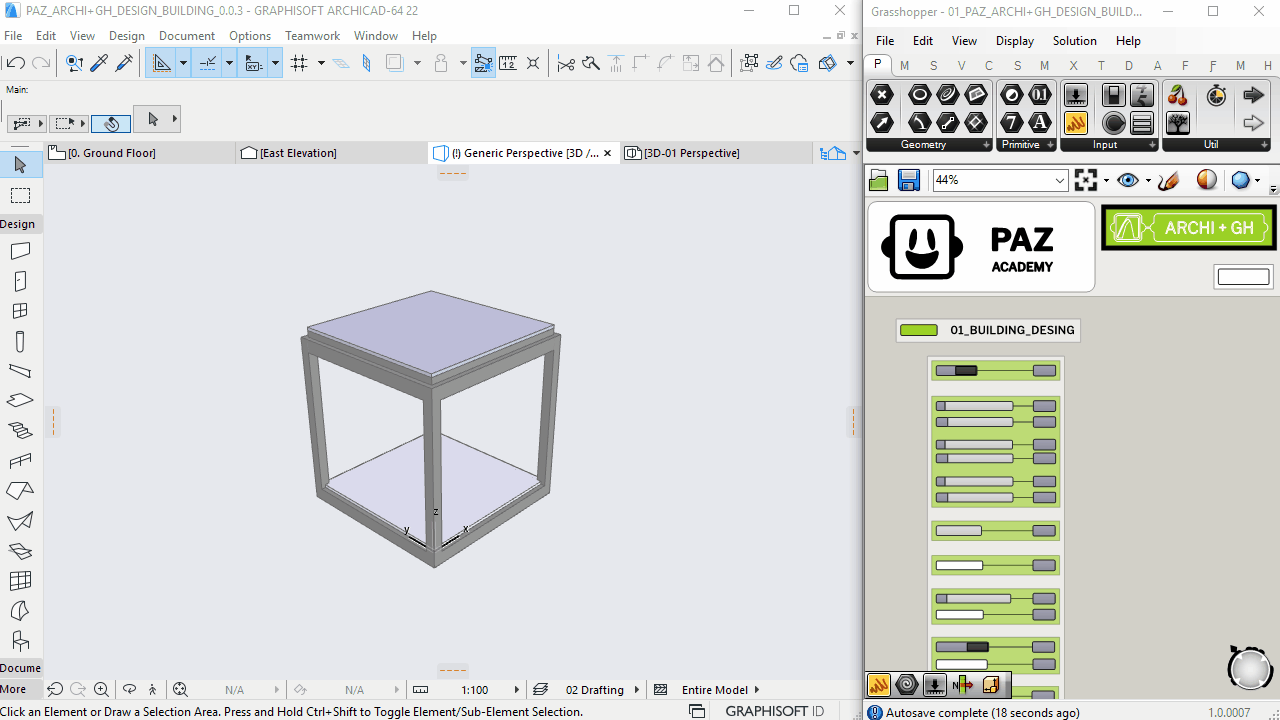 PAZ GAMES OPEN HOUSE BASEL 2019:
Thanks for the Players, to Rapp Architekten, to Fluxdock for the nice organisation and opportunity. We like to play and learn at the same time. To be continued…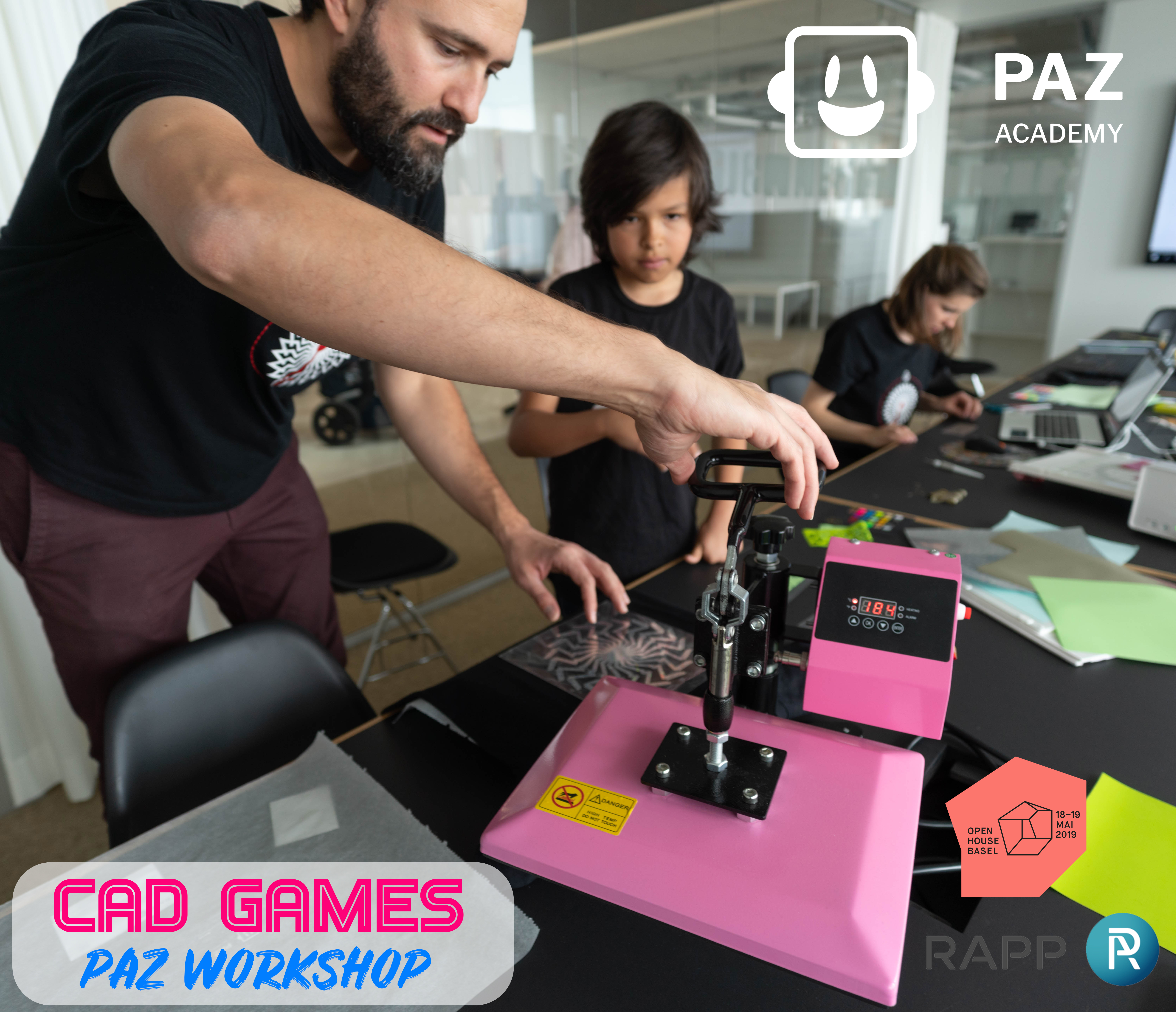 Thanks for coming to our interesting and succesfull HELLO PAZ events in March. : )
HELLO PAZ will repeated after summer holidays to explain the importance of parametric design and to show the power of it to more people.
We are happy to launch our fresh courses for 2019.
Find the most fitting for you and for your office and don`t miss our HELLO PAZ event on 7th and 21st of March in Zürich.
We are happy to organize our last CAD GAMES workshop during AFTZ Zürich.
It was intense with a lot of fun and amazing T-shirt at the end. 4 hours of CAD Gaming + Industrial Design + Cutting and Heating Machine + T-shirt!
Check out or best moments! : D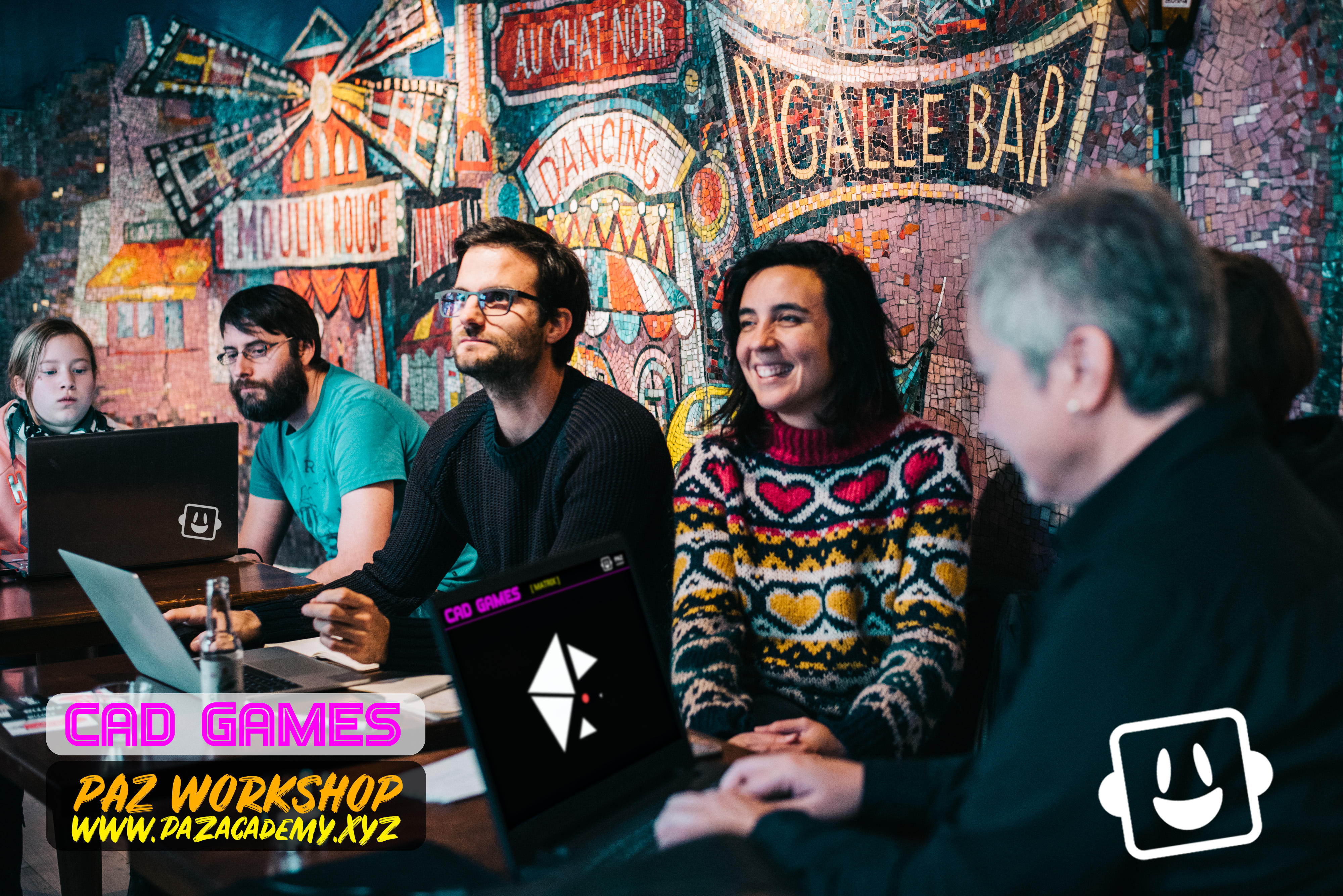 We are happy to inform you after so many years of studies and experience with offices and universities, we are located now in Zürich to help you.
Our first introduction will be on the 14th of April, don`t miss it.
PAZ is a young academy specialised in computational design.
Our mission is to help architects, designers and engineers to work more efficiently, with more precision and happiness optimizing and automatizing their workflow.
If you have questions, you want to know more or show us something, contact us. Always ready to help and learn.