BSS TITLE
BUILDING SYSTEM SPECIALIST TITLE
THAT WILL CHANGE YOUR LIFE IN JUST 5 MONTHS
NEXT PROMOTION > 1º MARCH !
UPDATED AND REFRESHED !
[ 3 reasons why you should join ] :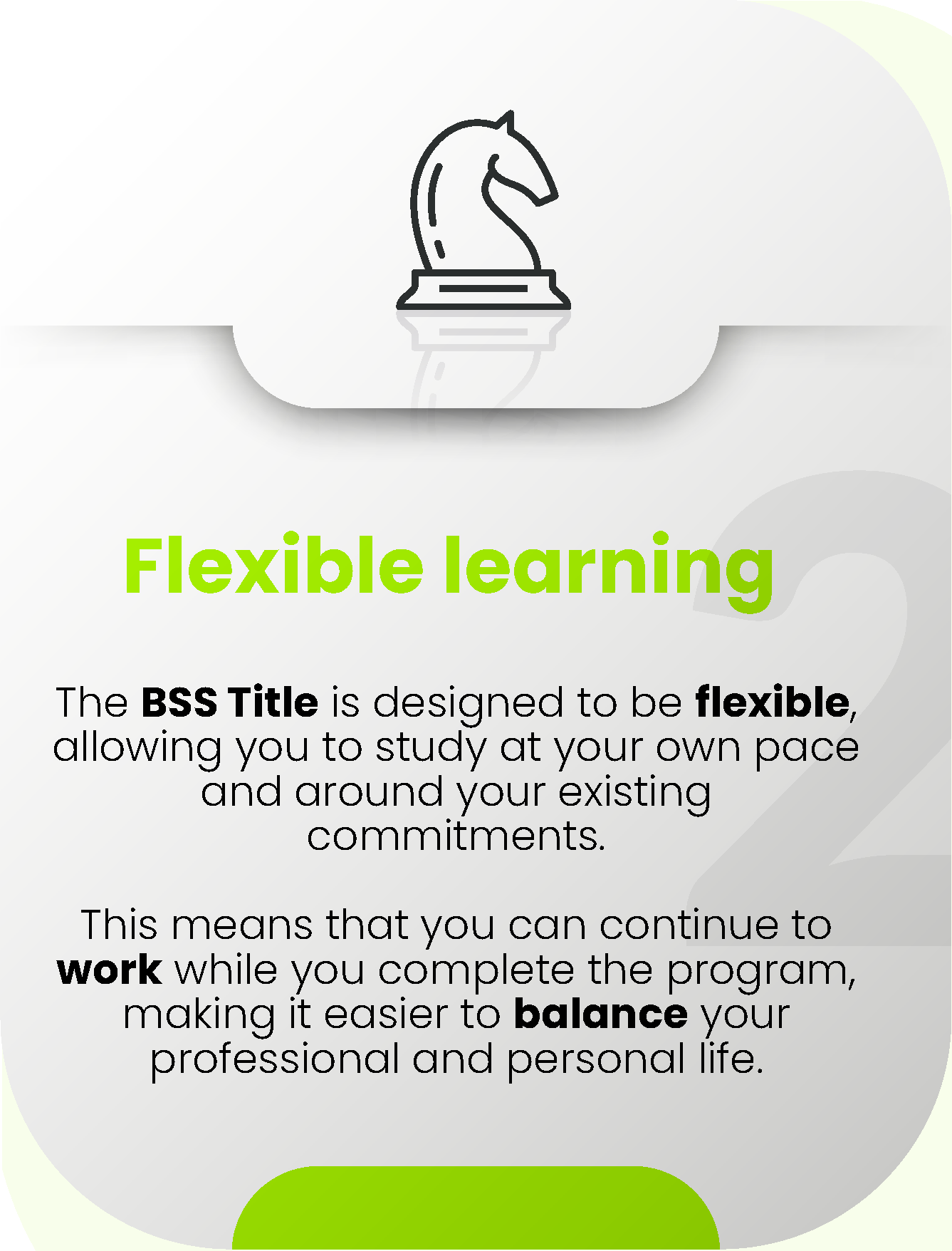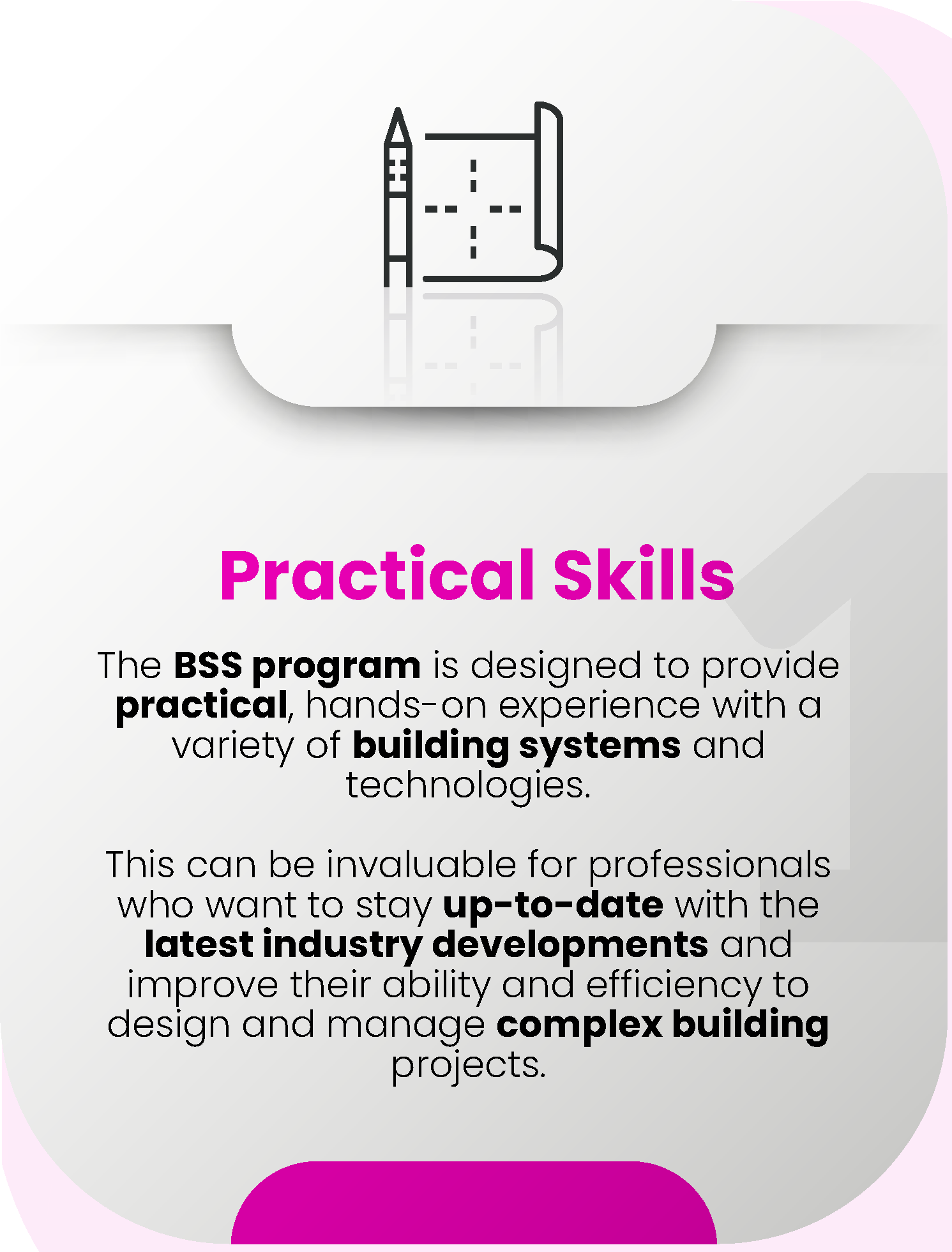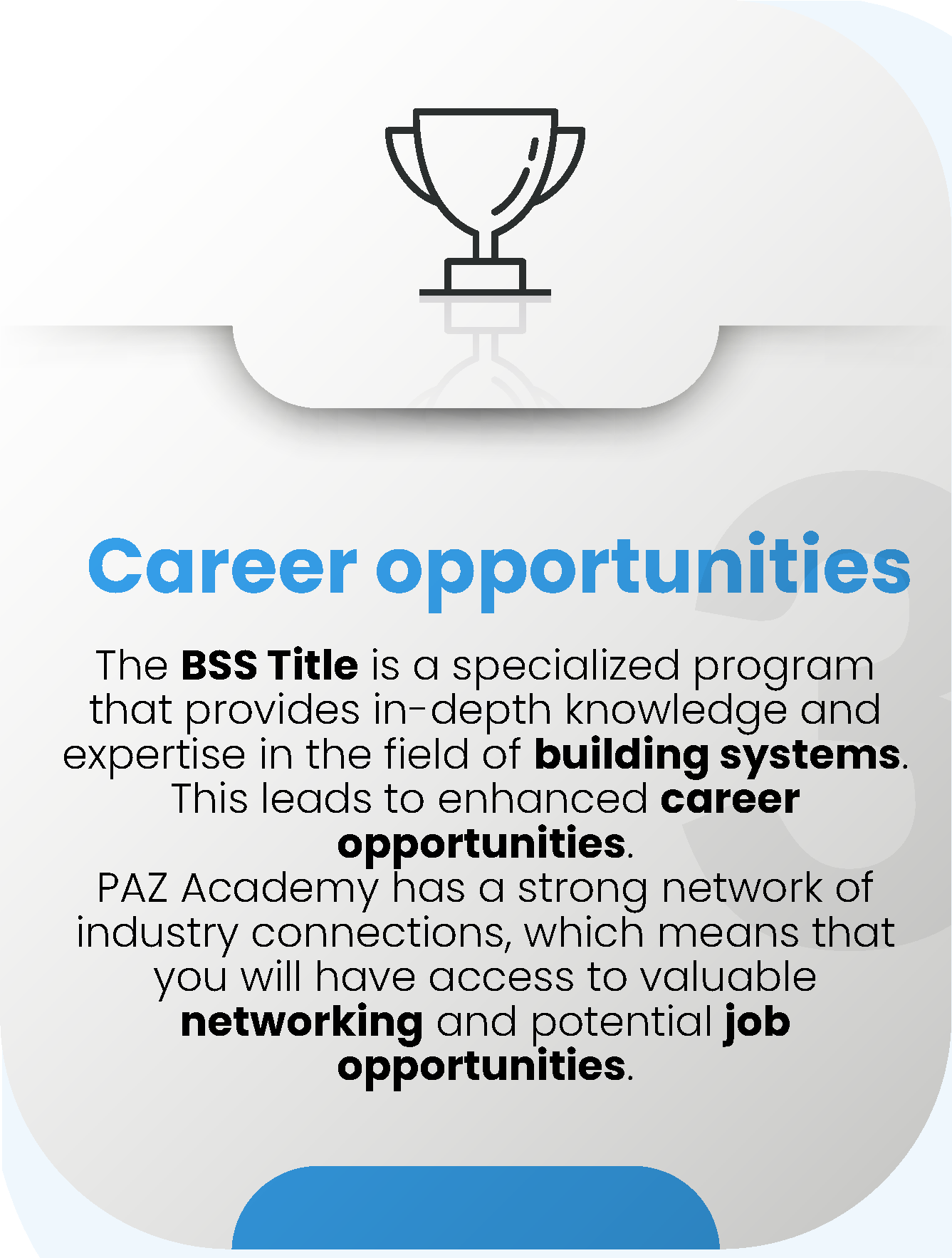 Do not miss the updated and new edition of BSS – Title!
Dive into the groundbreaking intersection of BIM, computational design and artificial intelligence in our hands-on, practical BSS, Title where we will explore the limitless potential of parametric design, data driven processes and AI-powered design tools to reshape our built environments.
Join us as we redefine the boundaries of creativity, unlock new possibilities, and transform the way we conceive and design.
This is your chance to be at the forefront of the architectural revolution and master tools that will define the future of design.
[ BSS structure ] :
01 – HELLO      

LEVEL 0 & BSS Platform Adventure : Let's start with your shiny new toy, the BSS platform. It's your communication gateway to the rockstar PAZ Crew. Buckle up and get ready to explore!

LEVEL 1 – 2 & Rhino Rumble & Nurbs Nostalgia : Say 'Hi' to Rhinoceros3D, your new best friend. We'll dive into the fundamentals, geometry types, and commands, all with a side of fun!

LEVEL 3 – 4 : Grasshopper Gala & Parametric Party  : Welcome to your new Ruttenian life! Get ready for boxes, wires, and a hearty dose of Parametric and Computational Design. Grasshopper's the name, and we're about to make it your game.


LEVEL 5 : BIM Battle Royale : Choose your weapon, the Archicad Grasshopper Connection or the Rhino.Inside Revit Interface. We'll break down components and functions, so you can slay that BIM environment.


LEVEL 6 : Hands-on Experience : Time to put all the theory and exercises into practice with a real-world study you can use right away in your professional life.


---

This is PART 01 – HELLO, a 6-week voyage ending with a project to show off your fancy new visual programming skills.; )

02 – DATA      

LEVEL 7: Data Structure Deep Dive : Get ready to delve deep into data structure, sharpening your skills for our mighty Building System.


LEVEL 8 – 10: Building System Bootcamp : Bring on the theory, bring on the hard work. It's time to get your hands dirty and create some Systems!


LEVEL 11 – 12: Toolbox Treasure Trove : Feast your eyes on a bounty of tips & tricks, user interfaces, and so much more!


---

This is PART 02 – DATA, a 9-week marathon culminating in a project to show off your Building System and professional chops. You got this! 💪


After each session we have a personal talk to guide you in your career path and answer your questions.

03 – PARTY      

LEVEL 13 – 14: Optimization Odyssey & Simulation Soiree : Welcome to the realms of Form Finding, Generative Design, and a whole lot more.


LEVEL 15: Developer Dojo : Embrace the Python, think like a programmer, and unleash your inner developer.


LEVEL 16: Rhino Rodeo & Grasshopper Gathering : Get to grips with the ecosystem, plug-ins, and add-ons. Yeehaw!


LEVEL 17: Environmental Expedition & AI Affair : Get a big dose of Environmental Analysis, Simulations, Interoperability, and AI. Let's get techy!


---

This 03 – PARTY is the third part and it takes 6 weeks to finish with the amazing ecosystem, where you can directly show your Building System and professional skills  ; )


After each session we have a personal talk to guide you in your career path and answer your questions.
04 – PROJECT    

LEVEL 18: Final Project  : It's time to combine all your newfound wisdom and create your specialization. This is where the magic happens!


BSS FINAL PROJECTS could be anything from wooden engineering, architectural design, urban planning, to re-use and re-think.

---

After the final project, we'll have a live graduation to show your hard work and make you the envy of industry professionals, potential employers, and colleagues.

But wait, there's more! As a proud member of our BSS Network, we'll help you craft strategies and provide perspective on how to elevate your professional life. Whether you're freelancing or aiming for a higher position in your office, we've got you!
NEXT PROMOTION > 1º MARCH !
[ BSS Team ] :
Introducing our super-profs and the BSS Title dream team – the industry game-changers, delivering quality, precision and trainings as personalized as your playlist.They've been the mentors, the Yodas, the Mr. Miyagis for hundreds of architects, engineers, and draftsmen. Their experience isn't just theoretical – they've been working in the execution and success of numerous construction and design projects, revolutionizing the way we approach building systems. They traveled and lived in several countries, delivering projects, presentations and trainings.
Their secret weapon? Staying fresher than a minty toothpaste ad, continually testing and refining their approaches.Whether you're aiming for the perfect job, a lifestyle update, or just looking to live the life in the PAZ centre, they're here to morph you into a BSS rockstar – so buckle up, it's going to be wild! ; )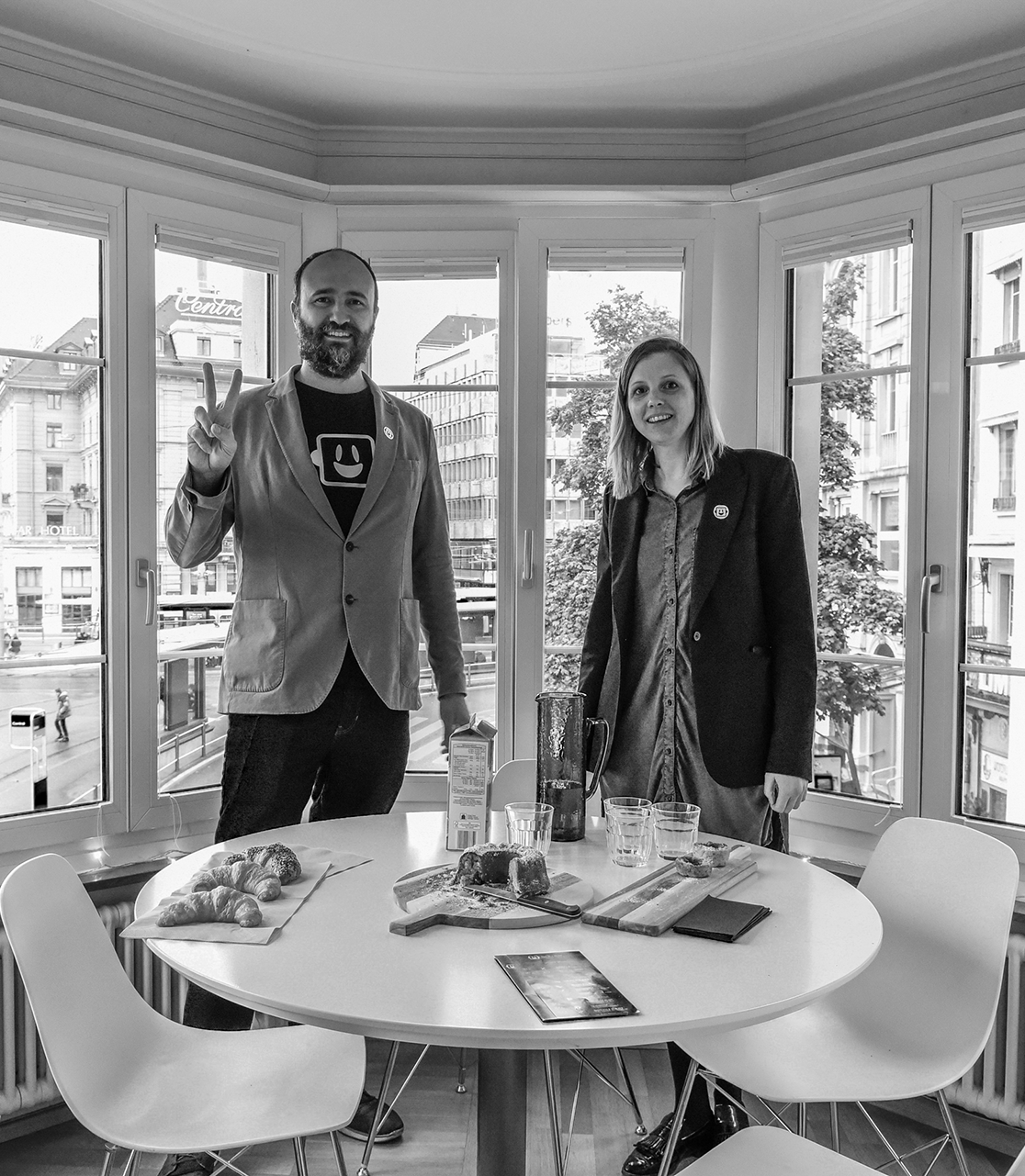 [ BSS HEROS ]
[ What is waiting you ]:

Flexible and challenging personal online plattform ▼
Dive into parametric design in just 5 months! Our program, a thrilling journey from basic geometries to advanced Grasshopper scripts, is tailored to you. Just 6 hours a week of practice, and you'll be a master! Swap your Netflix time for career-transforming skills! Your future self will thank you!


Personal and direct connection with our professors▼
Gain exclusive access to our professors for personal guidance, enhancing your journey. This unique chance boosts motivation and effectiveness while respecting your privacy. Having a direct line with PAZ is your ticket to success.

Personal Library with professional PAZ Scripts and Tools▼
With more than 15 years of expertise, we offer professional files and scripts, including templates, tips, and tricks. Our meticulous work gives you access to stunning, impactful scripts that will boost your skills to new heights.

BSS Talks with amazing computational rock-stars around the world▼
Join our elite computation design community for insights, advice, and motivation. Engage monthly with industry leaders, and gain tailored strategies to elevate your career, whether freelancing or climbing the office ladder. Be part of the transformative BSS Network, empowering you to handle diverse projects.

Final Project and Open Graduation▼
Showcase your work and catch the eye of industry pros, employers, and peers as part of the BSS Network. We provide feedback and strategies to elevate your career, fueling your growth and ability to tackle diverse projects.

Private mentorship talks to reach your dreams▼
Join us to turbocharge your career with exciting opportunities, increased earnings, and a more fulfilling work life. We're your guides on this rewarding journey.
NEXT PROMOTION > 1º MARCH !
[ Ask your company to pay ] :

You are coming with your team or / and you want to approach your decision makers for financial support to enroll in the BSS Title? Let us help you to make it happen!

At the end of the day, any company like yours, benefits from your and your team knowledge and skills! : )
[ BSS HERO projects ]
[ BSS Rockstars ] :
We invite the top of the top of the industry to share their story, knowledge and insider tips and tricks.
NEXT PROMOTION > 1º MARCH !
[ FAQ ] :
How much time do I need for the BSS Title? ▼
Swap your Netflix binge for a career boost with PAZ Academy. In just 6-8 hours a week, our program transforms your professional dreams into reality. Make your time count and let's change your future together!

In which language is the BSS Title? ▼
The BSS Title is in English, but our Professors they speak a lot of languages. For this reason the questions, explanations can be also in German, Hungarian and Spanish. ; )

I do not have experience in parametric design and BIM. Is it a problem? ▼
BSS-Title is the ultimate course for architecture, engineering, and drafting professionals and students. It covers everything from the basics to expert-level tips and tricks. Prior knowledge in modeling, geometry, and math is recommended. ; )

Do I need my own licences for the BSS Title? ▼
We can provide you Student Educational License during the 5 months.

Do I get assistance and coaching during and after the Title is completed? ▼
At BSS Title, you enjoy personalized mentorship as we limit student numbers for quality. We see each student as a unique project, promising an unparalleled 5-month learning experience.

How much does this program cost? ▼
It just 1395 CHF per month, or 6970 CHF for the entire 5-month program with the option to pay in installments, the BSS-Title is an affordable investment in your future.

Do I have to pay the full price if I am student? ▼
PAZ Academy has a discount for students. Please contact us for more information!

What happenes if I have holidays or deadlines during the 5 months? ▼
At PAZ Academy, we don't rely on robots to teach you the ins and outs of parametric design and computational workflows. You'll get plenty of exposure to AI during the course, but the real magic happens when our human professors guide you through the program. Just remember, to get the most out of the BSS Title, don't take a break longer than two weeks! And if you have any questions or issues, just shoot us a message and we'll tackle it together – we promise not to respond in binary code! ; )

[ DO YOU WANT TO BE SURE? READ SOME FEEDBACKS 😉 ]